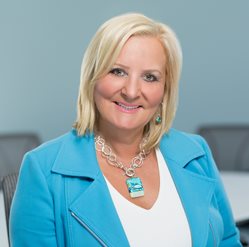 Toronto, Ontario, September 26, 2019:  Today, OTEC Workforce Solutions announced that President and CEO, Victoria Behune, has decided to retire effective December 31, 2019. Behune joined OTEC on March 20, 2006, and has served as President and CEO for almost 14 years. She has been a dynamic, visionary, entrepreneurial leader who has overseen the growth and development of OTEC during her tenure by building strong teams and expanding the organization's portfolio and social impact through innovative products and services. She guided OTEC's most critical operations, finances, marketing and management processes supported by an experienced and progressive Board of Directors.
A passionate tourism executive and leader, Behune has contributed to help to build Ontario as a successful tourism destination by ensuring that well-trained, customer-centric and knowledgeable employees are ambassadors to the sector and tourism regions.  Under her leadership, OTEC has transitioned to serve the diverse needs of the tourism and hospitality industry, due to economic, political and demographic shifts and changing tourism trends.
Behune has also contributed significantly to Ontario workforce development strategies and the needs of the industry for skilled labour due to shortages. She has helped spearhead new strategic initiatives, as well as technology-based and innovative solutions, to support the sector's need for skilled labour. She, along with the team at OTEC, established new models for partnerships with government, education, tourism regions and employment serving agencies serving youth, Indigenous peoples, refugees, new immigrants, mature workers and persons with disabilities.
Prior to joining OTEC, Behune served as Vice-President, Membership, Travel and Marketing at CAA Mid-Western Ontario. She was the Vice-President Revenue Development and Partnerships at Tourism Toronto and the Director, Marketing and Visitor Services at the McMichael Canadian Art Collection. She has held other progressive senior leadership roles in her 45+ year career in tourism and hospitality.
Behune has made a significant impact on the sector that has spanned the areas of destination management, attraction and destination marketing, experiential and cultural tourism development, labour market and workforce development and travel services management. She has been on the Board of Tourism HR Canada for almost 14 years helping to provide guidance to the national sectoral association also leading on workforce development issues. Previously she has led or served on several DMO, Community and Academic Boards and Committees, including as President of Attractions Ontario, Chair Vaughan Tourism, President of Oakville Arts Council and were on the inaugural Board of Destination Ontario (formerly OTMPC).
"On behalf of the OTEC  Board of Directors, we would like to thank Victoria for her passion and dedication to OTEC throughout her tenure as President & CEO. She has been an inspiring and progressive CEO who has guided OTEC's development and progression into a leading workforce development organization. We would like to congratulate her on her next chapter", remarks John Wilkinson, OTEC Chair.
Behune will continue to serve as President and CEO of OTEC until December 31, 2019. Starting in 2020, she will continue to assist and associate with the organization.  The new President & CEO, who will lead OTEC starting on January 1, 2020, will be announced shortly by the Board of Directors.
About OTEC
OTEC Workforce Solutions (OTEC) is an Ontario-based, independent, not-for-profit training, consulting and workforce development organization that provides sector-based research, project management, workforce strategies, training development and delivery throughout the workforce lifecycle. Established in 1991 as a tourism and hospitality training and skills development organization, OTEC has evolved as a leader in workforce development and innovation that connects and aligns industry, education, associations, regional tourism organizations, workforce planning organizations and all levels of government to stimulate collaboration and create labour market strategies and plans. Additionally, OTEC is actively engaged with organizations on the development and growth of a professional, skilled workforce through customer service, leadership and tourism ambassador training and strategies, professional certifications, education products as well as services for a wide range of industry sectors. OTEC's corporate training and consulting clients include small and medium-sized businesses as well as Fortune 500 companies across Canada, the United States and the Caribbean.